A Touch of Home: First-Rate New Donut Dolly Doc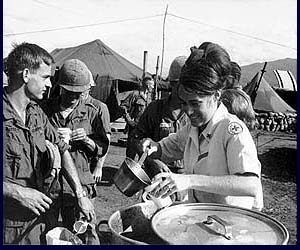 The documentary film making husband-and-wife team of Cheryl and Patrick Fries, whom VVA honored with an Excellence in the Arts Award in 2004 for their first-rate In the Shadow of the Blade , recently has  finished another terrific Vietnam War doc: the informative and evocative A Touch of Home: The Vietnam War's Red Cross Girls.
The film, which Cheryl Fries directed and wrote and Patrick Fries shot and edited, tells the story of the 627 young women who volunteered for the Red Cross Supplemental Recreational Activities Overseas Program in Vietnam or, as most GI's knew them, the "Donut Dollies." The film features former Donut Dolly Holley Watts reading excerpts from her book, Who Knew? Reflections on Vietnam , along with present-day interviews with a dozen or so former Red Cross girls, comments from male Vietnam veterans, and lots of in-country footage and photos of the Donut Dollies in action back in the day.
"We tried to bring a touch of home to the combat zone, " Watts notes, and then the film shows how and why the women did just that in Vietnam. They brought good cheer (they were told to smile at all times), recreational games, soft drinks (and donuts) to the troops, all the while sporting distinctive light blue mini dresses. It was a mixture of "idealism, the lure of adventure and a minimal salary" that took us to Vietnam, one of the women notes. "None of us knew what we were getting into."
The Donut Dollies traveled just about everywhere in South Vietnam, averaging about 17, 000 air miles a month taking their program to the troops in the field. Their job, one of the women said, "was to make people smile and take their minds off the war."
The Fries' film does a fine job of making this small but important segment of the Vietnam War come alive. To learn more about the film, including its availability on DVD and screenings, go to the Touch of Home web site.
---