'The Last Full Measure': What is Real and What is Not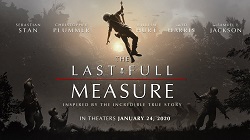 Review by Marc Leepson, VVA Veteran Arts Editor and Senior Writer
 The Last Full Measure, the fact-based Vietnam War-heavy movie that opened nationwide on January 24, 2020, features a five-pack of big-time Baby Boomer male actors playing Vietnam War veterans.
William Hurt, 70, offers up Tulley, an intense, troubled USAF vet, using many of the mannerisms he displayed in his portrayal of the troubled, impotent Nam vet Nick in the classic 1983 movie, The Big Chill.
Samuel L. Jackson, 71, as Takoda, is his usual intense self, as a troubled, one-time Army infantry LT still haunted by flashbacks from the catastrophic engagement that's at the center of the film.
Ed Harris, 69, is a cranky codger who drives a school bus and stumbles along life's path primarily because of something he didn't do during the battle in question.
Peter Fonda, who died at 79 last August, gives us Jimmy Burr, a mentally disturbed former infantryman scarred so deeply that he has retreated to a cabin deep in the woods where he sleeps during the day and hunts his demons toting a rifle when he's awake at night.
John Savage, 70, is Kepper, who also lives in the woods, but back in Vietnam, where he has found inner peace battling his combat-induced trauma with the help of deep breathing—and butterflies.
The other Vietnam War veteran character in the film is played by a real Nam vet, the great Dale Dye, 75, who also served as one of the movie's three military technical advisers. Dye and former USAF Vietnam War Para-rescue MSG James Pighini and retired Marine SMAJ James Dever were responsible for the movie's brutally realistic Vietnam War battle scenes. Dye plays a U.S. Senator who made a mistake during his tour of duty, but whose honor and honesty redeems him four decades later.
Not coincidentally, each of these AARP-member actors has played at least one Vietnam War veteran on the silver screen.
'INSPIRED BY A TRUE STORY'
Todd Robinson, who wrote and directed The Last Full Measure, has created a movie that, in Hollywood parlance, is "inspired by a true story." What we get in this partly true and partly fictitious movie is both inspiring and deflating and both heartwarming and cloying.
The true story is the inspiring part. Here are the facts:
William H. "Pits" Pitsenbarger joined the Air Force when he was nineteen in 1963. He volunteered for USAF Special Warfare as a Pararescue specialist, one of the most dangerous jobs in any war. He went to Vietnam in 1965 and served in the 38th Air Rescue and Recovery Squadron based at Bien Hoa Air Base, and took part in more than 250 missions.
During a horrific firefight on April 11, 1966, Airman 1st Class Pitsenbarger and his crew came to the rescue of an encircled and outnumbered 2nd Battalion/16th Infantry Regiment/1st Infantry Division company at the Battle of Xa Cam My in the jungles 35 miles east of Saigon. The company took 80 percent casualties, including 36 men killed in action in a VC ambush. When he learned that the company's medic had been killed, Pits decided to try to help, rode the hoist a hundred feet into the heat of the battles, and descended into the fray.
On the ground, his Medal of Honor citation notes, "he organized and coordinated rescue efforts, cared for the wounded," and "prepared casualties for evacuation." Amid intense enemy fire, Pits personally rescued nine wounded men and refused to evacuate himself to try to get other wounded guys out of the fight. When sniper and mortar fire increased, Pits "took up arms with the besieged infantrymen." He "repeatedly exposed himself to enemy fire to care for the wounded, pull them out of the line of fire, and return fire whenever he could, during which time he was wounded three times," and then mortally wounded.
The movie flashes back and forth to the battle and to its psychological aftermath among the five men recounting the story in the late 1990s during the effort to upgrade Pits' Air Force Cross (the second-highest USAF medal for courage under fire) to a Medal of Honor. The battle scenes, shot in Thailand, are hyper-realistic. That includes shots of war carnage, enough that any war veteran who's experienced it may be discomfited by the up-close shots of spouting blood, dismemberment, violent death, and the deafeningly loud, insistent ordnance zinging and casings flying.
Those scenes ably show the MOH-worthy actions and valor of Pits (played more than capably by the recruiting-poster handsome English actor Jeremy Irvine) and the deadly onslaught the Big Red One infantrymen found themselves in.
That's the good news about Last Full Measure.
NOT SO GOOD NEWS
The movie falls down, though, in most of the 1990s scenes, primarily the ones that Todd Robinson made up "inspired by" the true story of how Pits came to get the MOH. The biggest letdown is a completely fictional character, a power-hungry young man working his way up the DOD civilian ladder called Scott Huffman (Sebastian Stan).
This guy begrudgingly takes up the job of investigating the MOH upgrade. Very begrudgingly. He all but sabotages the nomination to concentrate on getting himself a big promotion. But as the film grinds on, after interviewing Pits' still-grieving parents (Christopher Plummer and Diane Ladd) and talking to Hurt, Jackson, Harris, Fonda, and Savage, Huffman does a 180—choosing the right thing over careerism. It doesn't hurt that he also gets a boot in the rear end to man up from his lovely wife.
After his unlikely change of heart Huffman runs into a Pentagon conspiracy dealing with friendly fire that's never fully explained. Then there's political drama on Capitol Hill, which ends only after Huffman convinces the senator Dye plays to join him in his quest. The bow gets neatly tied when (this gives nothing away) Huffman triumphs in the end. Said end: a sentimental, feel-good, tear-jerking scene that should be cited in the dictionary under "Hollywood ending."
Huffman is (very) loosely based on a real-life hero, a young man named Parker Hayes who ran across Pits' combat heroics working at the Airmen Memorial Museum in Suitland, Maryland, in 1997. After Hayes wrote up a synopsis of what Pits did, he heard from other Pararescue men and former Big Red One veterans of the battle who convinced him to help them work on an MOH upgrade.
Parker Hayes interviewed a dozen Army veterans of the battle—but not the individuals portrayed in the movie. They're made-up composites. Hayes, who died at age 36 in 2009, submitted his research in 1999 to then Secretary of the Air Force Whit Peters, whose office finished the job. Pits' parents received the posthumous Medal of Honor at a ceremony at Wright Patterson Air Force Base in December 2000.
Also on the negative side: an often-sappy score and more than a few one-dimensional characters: Amy Madigan, Fonda's perpetually pissed-off wife; Harris' grumpy, angry school bus driver; and a snarky, unprincipled Pentagon bad-guy civilian bureaucrat, for example. Plus there's way too much speechifying masquerading as conversation.
Then there's the always-dicey question of the portrayal of the Vietnam War veterans. It's an undisputed face that a disproportionate number of Nam vets in the combat arms have had difficult psychological problems since coming home. You wouldn't be normal if you simply melted back into civilian life without post-traumatic issues. The truth also is that the overwhelming majority of Vietnam War veterans have successfully dealt with their emotional problems.
Four of the five Big Red One vets Robinson created have what could be described as PTSD, replete with nightmares, tears, and antisocial behavior. It's no coincidence the one guy who doesn't, John Savage, is the most fully flushed out character.
So, if you don't care that a movie has unrealistic, made-up characters mixed in with very real battlefield action (albeit deftly presented) in a sentimental, feel-good weeper, head to your local multiplex and take in The Last Full Measure. Don't forget to bring tissues.
January 27, 2020
---
---
---