Winning the War Within by Brenton MacKinnon | Books in Review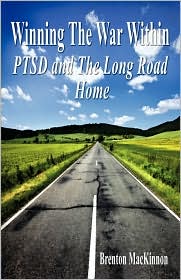 With the draft breathing down his neck, Brenton MacKinnon joined the U.S. Navy Reserve in California in 1965. After getting into a bit of mischief in Berkeley (involving going AWOL and taking part in an antiwar demonstration), he quit the Reserves and joined the active-duty Marine Corps.
After basic training at Camp Pendleton, MacKinnon went to Vietnamese language school in Monterey. When he arrived in Vietnam in January of 1967, MacKinnon was told to forget being a translator and was handed a rifle. But a colonel intervened and MacKinnon wound up doing a tour of duty in and around An Hua with the 2nd Battalion, 5th Marine Regiment as a radioman and translator.
The heart of his memoir, Winning the War Within: PTSD and the Long Road Home (BooksandPublishing, 186 pp., $15.95, paper), is a sprightly account of the author's war and rocky postwar experiences, featuring self-mocking humor and lots of reconstructed dialogue. MacKinnon also includes some of his poetry.
—Marc Leepson
---