Unspoken Messages by Richard D. Rowland | Books in Review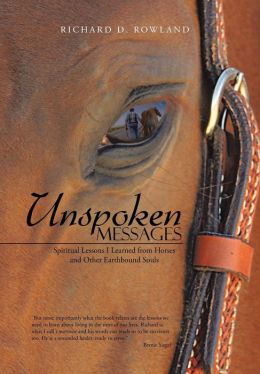 "The intent of the author is only to offer information of a general nature to help you in your quest for emotional and spiritual well-being." That's an honest statement from the author, Richard D. Rowland, but it does not begin to tell us what his book, Unspoken Messages: Spiritual Lessons I Learned From Horses and Other Earthbound Souls (Balboa Press, 222 pp., $33.95, hardcover; $15.99, paper), is about.
Richard Rowland is a retired Kentucky State Police sergeant. He served two tours in the Vietnam War where he"witnessed the horrors of war personally."
Part One of Rowland's book, "Let the Journey Begin, " is made up mostly of stories about special animals he has known, primarily horses and dogs. Often the stories involve the sickness and death of these precious and beloved animals.
Although the stories are well-written and well-told, I found them hard to read as they were sad. The main theme of this section is that God sends us messages in the form of animals and these animals bring peace to the people who need it the most. As the devoted companion of two old dogs, I can tell you that I feel the truth of this philosophy.
The second half of the book, "Coming Clean and Facing Fear, " deals with Rowland's cancer diagnosis in August of 2008.  "It is a blood cancer called multiple myeloma, " he writes. "It is relatively rare and it is incurable. No matter what we do for you, " the doctors told him, "you have three to five years to live at the most."
It is necessary here for me to disclose the fact that around that same time I received the exact same diagnosis. The second half of Rowland's book was of intense interest to me because of this.
Rowland explains that multiple myeloma is a cancer related to exposure to dioxin, the highly toxic component of the herbicide Agent Orange. He complains that his diagnosing doctor did not offer hope. Mine did not either, so I changed doctors and went from private care to the VA Medical Center in Seattle where I have received great care and also hope.
Rowland writes, "Your desires and your dreams are your power for growth and healing." I totally subscribe to that philosophy.
Rowland received care in the VA Hospital in Louisville, Kentucky, and he says, "If you ever visit any veterans' hospital, be prepared to see things that will affect you, will cause an emotional response whether you want them to, or not."  He says a mouthful here.
He also quotes a cryptic Vietnam War saying, "It's okay, it's not really real."  Rowland, though, finds out that ignoring his initial diagnosis for two years resulted in something that was really real. His bones developed lesions and they began breaking. Early in the third year after his diagnosis, he broke his first rib.
"The pain was the most intense I had ever experienced."  My journey with multiple myeloma was exactly like his, so I know he is telling the truth.
Near the end of his book, Rowland tells us that he learned that many people diagnosed with multiple myeloma have lived many years past their predicted span. Some have lived ten to fifteen years longer than their doctors predicted. Emotional and spiritual well-being have helped them to beat those dire predictions, he says. I won't argue with that.
Rowland set out in the book to bring peace to people like him who "carry a life-ending diagnosis." I found my emotional burden lightened somewhat while reading this book.
I found even more comfort and peace spending time with my animal companions: Sweetie and Tobey, who never fail to bring a smile to my face and joy to my heart.
—David Willson
---
---
---