The Vietnam Trilogy by Walter C. Kuhlman | Books in Review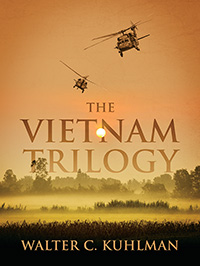 Walter C. Kuhlman, the author of The Vietnam Trilogy (Outskirts Press, 314 pp., $19.95, paper), served in Vietnam with the U. S. Army in 1967-68 as a gunner on a Quad .50. He is a life member of Vietnam Veterans of America.
The Trilogy consists of three plays: Survivor , The Innocents of War,   and Rap . Plays are written to be performed, and it is always a challenge for a reader to visualize a playwright's intent, no matter how rich the stage directions are. Reading these three plays has made me eager to see them performed.
Survivor is set in Phouac Binh Province in South Vietnam right after the start of the 1968 Tet Offensive. The characters are a squad of 101st Airborne Division Army paratroopers—Company A, 1st of the 506th. The men are sent out on a search-and-destroy mission, but it turns out that they really are bait to draw out the NVA.
In the play we are told by one character that the whole war is an exercise in population control. It is mentioned that after coming home the men were spat on and called baby killers by antiwar demonstrators.
The survivor of this patrol, Fred Mercer, later tells his wife that their son is a cripple because he was exposed to Agent Orange in Vietnam.  America's superior firepower is mentioned. Gen. William Westmoreland gets credit for his optimism about the light at the end of the tunnel.
This is a bleak play in which the ghosts of the dead soldiers Fred Mercer served with play important parts. His life after the war conforms to the great American cliché of how combat survivors spend their post war lives. He tries having a family, but is no good at that. He deals with his survivor guilt by drinking. He can't keep a job. He becomes homeless and we see him putting a pistol to his head.
In The Innocents of War  the protagonist,  David, is the eldest son of a typical, very patriotic middle-class American family. The dad of the family, Olly, makes the point that the day after Pearl Harbor he volunteered for the Army.
Lots of hubris is expressed in this play. The family is convinced that David will go to Vietnam, kick ass, be back in a jiffy, and God will look out for him.
The family asks: How can little people in black pajamas hope to defeat Americans who have superior firepower and much better equipment? They laugh about how outgunned and out-performed the VC must be. Ollie regrets that Barry Goldwater is not president as he would drop the Big One and that would be that.
David leaves for Vietnam, time passes, and neighborhood boys start coming home in boxes. "We should have never let him go, " his mother says.
Uniformed Army men show up on their porch with bad news. David is MIA. Ollie says that this is not like any war we have fought before.
Time passes. David's younger brother avoids the draft. Ollie dies. Eventually David's commanding officer informs his mom what really happened to David. He was not missing. He was simply dead.
Rap is the third play. I can't attest to the verisimilitude of how the rap group portrayed in the play is run. I've never been in such a group. I did approach a couple of such groups after I got back from Vietnam, but it was explained to me, none too gently, that they were for combat veterans only.
The leader told me that even some "girls" had applied. They'd been nurses in Vietnam and said they wanted to be a part of the group. "Can you believe that? They wanted to use up valuable time and energy needed for real combat vets."
If the rap group portrayed in this play is representative, I missed nothing valuable. The leader of this group is clueless. She has sex with one of the group participants.
There is a schism between the Marines and the Army guys that sometimes leads to violence. Throughout the play the Marine Corps is referred to as "the crouch."  That's not right. My Marine Corps friends often lovingly called it  "The Crotch." That oft-repeated mistake annoyed the hell out of me.
Also it is said in the play that the war was fought "on the cheap." Really? The war I took part in was not fought on the cheap. Yes, there were distribution problems, but tons of money was spent.
This play did make me think, which is a good thing. I would love to see it performed. On the other hand, I have trouble believing that the sex scenes would not trigger audience laughter.
Agent Orange and malfunctioning M-16s are mentioned. The main point seems to be that the U. S. government poisoned us and then refused to care for us when we needed care.  It's impossible to argue with that.
—David Willson
---
---
---