The Dryline by Jack Grubbs | Books in Review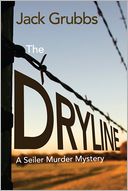 The Dryline (The Small Press, $16.99, paper) is the second book by Retired Army Brigadier General Jack Grubbs in his Seiler Murder Mystery Series, a projected trilogy. Grubbs served two tours in Vietnam and did 35 years of active duty in the U. S. Army. He also has a PhD from Rensselaer Polytechnic Institute, which explains how he can provide his character, Tom Seiler, with believable and mind-numbing expertise to help his brother design an oil-extraction system that becomes much sought after by bad guys.
The plot involves ruthless oilmen who think nothing of premeditated multiple murder to get their hands on the Seiler oil-extraction system, which both good guys and bad guys are convinced will result in billions of dollars being made by the lucky patent holder. The book is all about who is going to end up with the patent—the Seilers who did all the inventing and designing, or the bad guys, who do the killing and conniving.
The book held my attention throughout, and it even had a couple of well-drawn canine characters, Catfish and Bear. The character and geography of Luling, Texas, came alive for this reader, and sometimes the book seemed more like an ethnography than a mystery.
Chapter 55, "The Watermelon Thump, " went on and on and did little to advance the plot. I learned more about what people eat in South Texas what kind of music they play at social gatherings than I wanted to know, but the very next chapter started with a bang, which redeemed that section of the book. Now that I've read this book, I will not need to visit Texas again.
It's no surprise that with a sentence like, "It's every Texan's right to hold a burger in one hand and a beer in the other, "  lots of beer gets drunk, much meat is eaten, and large quantities of blood are shed in a brutal manner.  Vietnam veterans are sprinkled throughout the book, and they are never portrayed as evil, which I found a refreshing departure from most mystery novels that include Vietnam War veterans.
If you are searching for a techno-mystery to read that is set in Texas, give this one a chance.  Despite the high praise that one character gives to the current Texas governor, I kept reading until the end. That's high praise for the engrossing plot.
The author's website is www.GrubbsBooks.com
—David Willson
---
---
---