The Black Box by Michael Connelly | Books in Review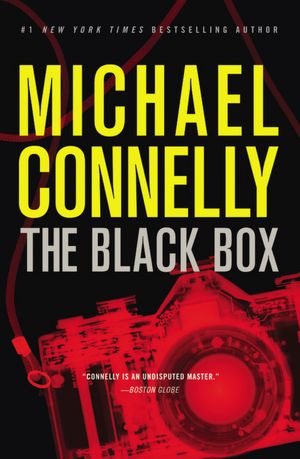 Twenty years ago, I opened the pages of a first novel by a young former Los Angeles Times police reporter about a quirky, troubled L.A. homicide detective: The Black Echo by Michael Connelly. I was extremely impressed by Connelly's taut writing, his careening, clever plot, and by the detective himself, Harry Bosch, a former Vietnam War tunnel rat.  Bosch came alive for me in all of his complexity; he was emotionally troubled by his war experiences, but was a strong, smart detective who did not rest until he solved a heinous murder.
In the intervening twenty years Connelly has written eighteen Harry Bosch detective procedurals. I've enjoyed reading every one of them, including the latest, The Black Box (Little Brown, 416 pp., $27.99).  This one started out slowly for me, but Connelly pushed the accelerator to the floor after a hundred pages or so, and I once again I found myself deeply drawn into a fast-paced, riveting novel with a twisting plot and believable, well-drawn characters.
Connelly includes many of the elements in the new book that he has used to great effect in the other Harry Bosch novels, including the previous one, The Drop , which came out a year ago. In Black Box, Harry—as always—is obsessed with solving a case. In this case it's the twenty-year-old murder of a young Danish female photojournalist who was shot and killed in L.A. during the 1992 riots.
As usual, in his single-minded quest to solve this cold case, Harry Bosch butts heads with a slime-ball, ticket-punching superior in the police department. Also, as per usual, he bullheadedly steps over the procedural line more than once, jeopardizing both the case and his checkered career. He also faces a boatload of angst-induced personal problems, including daily frustrations with his head-strong teenaged daughter, and a less-than-satisfactory relationship with his putative girlfriend.
All the while, Bosch uses his brains and experience to unravel a complicated murder plot that goes back to the first Persian Gulf War. It spoils nothing to report that the bad guys get theirs in the end. The meat of the book is how Connelly gets Bosch to the final, bloody confrontation with the perps.
Along the way there are periodic references to Bosch's time in Vietnam. The veteran detective is not obsessed by what happened to him in the war, but his experiences in 1969-70 remain an integral part of his life.
"His was a war of mud and blood and confusion, " Connelly writes as he describes Bosch looking at photographs the dead Danish journalist took in the first Persian Gulf War.
He "saw up close the people they killed, that he killed. Some of those memories were as crystal clear to him as the photographs now on his screen. They mostly came to him at night when he couldn't sleep or unexpectedly when some everyday image conjured a somehow connected image from the jungles or tunnels where he had been.
"He knew war up close and [the dead journalist's] words and pictures struck him as the closest he had ever seen it through a journalist's eyes."
Once again, in The Black Box (the title refers to Bosch's quest to find the equivalent of a crashed airplane's black box) Michael Connelly give us a page-turning detective that is several cuts above your average genre novel.
Connelley's website is www.michaelconnelly.com/novels/theblackbox
—Marc Leepson
---
---
---