Tears of a Warrior by Janet J. Seahorn and E. Anthony Seahorn | Books in Review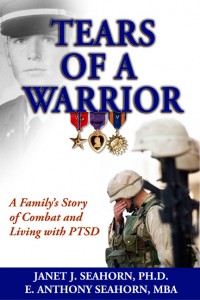 Tears of a Warrior: A Family's Story of Combat and Living with PTSD by Janet J. Seahorne and E. Anthony Seahorn (Team Pursuits, 225 pp., $20, paper) is an excellent book. Janet and Tony Seahorn are well qualified to speak on the subjects of combat and PTSD. Janet Seahorn holds a PhD in Human Development and Organizational Systems. Her husband received two Bronze Stars and two Purple Hearts for his service in the Vietnam War with the Army's First Infantry Division.
One unique feature of this book is the number of poignant quotations about war and its high human cost.  Words from Wendell Berry, Elie Wiesel, and Erich (All Quiet on the Western Front) Remarque remind us that war has been horribly devastating through the ages.
Tony Seahorn makes the chilling statement that no one who has not been in actual combat can imagine its horror. His war experience began in Lai Khe, an abandoned rubber plantation on the Ho Chi Minh Trail. During his third night in this dangerous area, a 122 MM missile exploded above his tent.
"I was one of the lucky ones, " he writes. "A single fragment of shrapnel pierced my leg. Others were not as lucky. I will never forget the screams of horror in the night from my bunk mates. One lost an arm and both legs. The third one died. Welcome to Vietnam."  The rest of his war story retains this intensity.
If a picture is worth a thousand words, the photographs in the book tell their own story. The smoke, dust, and elephant grass are almost tangible. Beginning midway through the book, nature scenes are used as symbols of healing.
The authors explain what PTSD is and how it manifests in a veteran's daily life. This part of the book is easy to follow, and offers hope for veterans and families affected by PTSD.  As a follow-up to these valuable chapters, the authors include a diagnostic self-evaluation tool. While not intended to replace professional mental health care, the assessment is a great starting point.
Another evaluation instrument measures the effects of PTSD on relationships. Once again, the clear wording here provides a good starting point for saving or improving personal relationships. Anyone who reads through the evaluations will quickly realize that combat is not the only cause of PTSD. This reader would suggest that the authors publish the evaluations in pamphlet form to be placed in doctors' offices, places of worship, and the like.
Janet and Tony Seahorne provide hope as only those who are working through pain can do. At the end of the book listings of VA and PTSD treatment centers throughout the United States.
Tears of a Warrior  is a heart-mending book for veterans and others with PTSD—and their loved ones.
The authors' website is www.tearsofawarrior.com
—Joseph Reitz
---
---
---