Tales from the Teamhouse, Vol. III by Jim Kelley | Books in Review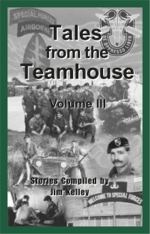 Tales from the Teamhouse Vol. III (Old Mountain Press, 263 pp., $4.99, Kindle) is third collection of stories edited by Jim Kelley and written by members of the Special Forces, all of whom also are members of the Special Forces list. All of contributors are active duty or retired. Some are departed.
The book is arranged in subject sections and contains stories, humor pieces, and poetry. The stories range in size from a tiny anecdote to a long short story. They range also in quality. Some are sketchy at best, written by soldiers who had stories to tell but little notion of how to tell them. Others are superb tales that hold a reader's attention and make him want more.
One of the better stories is "Big Boys" by Command U.S. Air Force SMAJ William E. Edge (RIP). It's an account from his time in the Korean War with the First Cavalry Division. It deals with holding back the North Korean Army along the Naktong River.
Another fine story, "Pepsi From the Sky, " written by Rolf R. Kreuscher, deals with the evacuation of a village of about 1, 000 souls in South Vietnam. This story embodies virtually all the themes and tragedies that were in place in the Vietnam War.
"Tet '68" by John Blevins also is an excellent piece. Blevins was sent to Saigon during Tet to get supplies for his team, and got stuck in Can Tho.
"Baby Killer!" by Reg Manning tells a funny story of how Manning dealt with a guy who made the mistake of hollering "baby killer" at him while riding a bike. "I never got spat upon, but I did get called a baby killer once, " he writes. I think that what happened to that ill-advised fellow should have happened to more of his ilk.
"Attack on the Camp" by Rudy Cooper (from his autobiography, Seed of Endurance ) made me want to read his entire book. It was an exciting recounting of an attack, very well written, and emboding the values of the Special Forces.
"Barry Sadler in Panama" by Bill Coombs is a story about the former Green Beret on stage in 1965. Staff Sergeant Barry Sadler (above) was his billing and he made the point that he could not be paid "or accept any money for his appearances" while in uniform. I wish Barry Sadler had made it to one of the places I was stationed in 1966-67. We had to settle for Hank Snow.
The stories use language and themes that are often encountered in Vietnam War literature: Get the hell outta Dodge, cowardly ARVNs, the odious ham and lima beans, and so on. I encountered the notion that we were doing fine in Vietnam, and that we gave up fighting due to "a bunch of weak-dicked politicians who represented us." There is a great glossary in the back of the book, more useful than most.
This book will please any aficionado of the Special Forces. I have not seen or read  Volumes I or II, but I'm sure those tales are as good or better than the bunch selected for this book.
—David Willson
---
---
---