Six Essential Elements of Leadership by Wesley L. Fox | Books in Review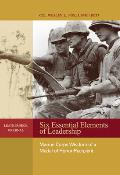 Retired Marine Col. Wesley L. Fox received the Medal of Honor for his heroic actions on February 22, 1969, while commanding Company A, 1st Battalion, 9th Marines, 3d Marine Division (the "Walking Dead") during Operation Dewey Canyon in the northern A Shau Valley.  Fox wrote about that—as well as his service in the Korean War and his other time in Vietnam—in his memoir,  Marine Rifleman  (2002).
In Courage and Fear: A Primer  (2009), Fox, who served for 43 years in the Marine Corps, offered up his thoughts about how he handled fear on the battlefield and in other dangerous operations. Fox included a short chapter in that book on what took place on February 22, 1969, when Fox and his men took heavy casualties and he was hit twice by shrapnel and pinned down by murderous NVA machine gun fire.
Wesley Fox's last book,  Six Essential Elements of Leadership: Marine Corps Wisdom of a Medal of Honor Recipient  (Naval Institute, 192 pp., $24.95),  is a readable book-length essay in which Fox discourses on "how my superiors and fellow Marines impressed me with their manner of guiding, directing, and leading others, their followers."
He lays out "six essential elements of leadership": care, personality, knowledge, motivation, commitment, and communication.
—Marc Leepson
---