Six Degrees of the Bracelet by John Siegfried | Books in Review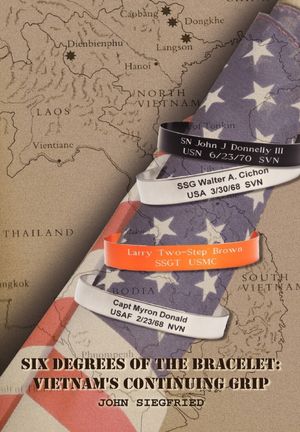 While rummaging through his late mother-in-law's belongings in 2009, John Siegfried, a military historian, discovered a silver POW/MIA bracelet inscribed "Colonel Myron Donald." Intrigued, Siegfried made contact with Myron Donald, a former POW who was imprisoned by the North Vietnamese for five years. Moved by his face-to-face meeting with Donald, Siegfried embarked on a nationwide journey to meet with additional Vietnam veterans and families of those still listed as missing in action.
In Six Degrees of the Bracelet: Vietnam's Continuing Grip (Xlibris, 356 pp., $22.99 hardcover; 15.99, paper), Siegfried documents the moving encounters and troubling stories he unearthed during his travels. Focusing on the themes of sacrifice, struggle, and remembrance, Siegfried seeks to memorialize, honor, and tell the stories of those who endured the harshest of conditions while serving in Vietnam.
From accounts of ongoing battles with post-traumatic stress disorder to stories of wives still unsure of the whereabouts of their husbands, Siegfried transforms what could be clichéd stories of war into personal accounts of pain, uncertainty, endurance, and, in some cases, triumph.
—Dale Sprusansky
---
---
---