Second Watch by J. A. Jance | Books in Review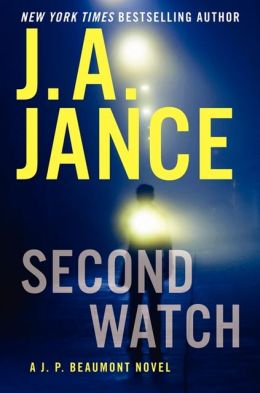 Second Watch (William Morrow, 368 pp., $26.99, ) is the twenty-first mystery in the best-selling J. P. Beaumont series written by Jance, a woman who lives in Seattle and Tucson and who grew up in Bisbee, Arizona.  All of these geographical connections figure significantly in this novel.
Jance is a member of the Vietnam Generation, but did not serve in the military. A seventeen-page section in the back of this novel details her connections to the Vietnam War. She graduated from Bisbee High School and notes that seven alums died in Vietnam, including one of the people she chose to appropriate for a character in this mystery novel. The afterword is as moving and involving as anything in this fine book.
Second Watch places J. P. Beaumont in a Seattle hospital getting and then recovering from double knee replacement surgery. The powerful pain drugs in Beaumont's system awaken ghosts from the past, and the novel becomes almost Strindbergian with a dreamscape populated by figures that come to life in his guilt-ridden unconscious. This fits with Beaumont's rearing in Ballard, the main bastion of Scandinavian culture in Seattle.  Two dead people from his past represent unfinished business that troubles and torments Beaumont.
LT Lenny D., his platoon leader in Vietnam, saved Beaumont's life in a firefight. The Girl in the Barrel is a dead teenager, one of Beaumont's early cases. Beaumont had promised her mother he would catch her killer, but he never had. The novel is structured around, and propelled by, this unfinished business and by Beaumont's attempts to deal with it, even though he is laid up in the hospital and unable to walk.
This mystery novel has plenty of graft, corruption, and violence, and offers both a believable look at the Seattle Police Department and an engrossing and well-plotted mystery from a writer from whom we always expect solid excitement.
This is the best of the 21 Beaumonts I've read. The only weak part is that there is some muddle about Beaumont's time and exploits in Vietnam.  I won't go into the minutia of that, but if Jance wants a detailed list of Vietnam War mistakes in this book, I respectfully offer to meet with her as she lives not so far from me.
I am eager to read the next novel in this series and highly recommend this one to fans of Jance's excellent work.
—David Willson
---
---
---