My Life, My Hell by Dan R. Vaughn, Jr. | Books in Review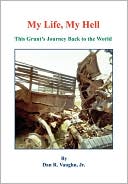 Dan Vaughn of Chattanooga, Tennessee, was drafted into the Army in January of 1968 when he was 19 years old. After basic at Fort Campbell, he was shipped to Fort Dix for Infantry AIT and then to Fort Benning for more training. Vaughn arrived in Vietnam in August of 1968, serving a year with the 2nd Battalion/1st Infantry of the 196th Light Infantry Brigade.
It was an eventful year and one that Vaughn relates chronologically—and well—in My Life, My Hell: This Grunt's Journey Back to the World (E-Book Time, 172 pp., $25.95). Vaughn—known to his buddies in Vietnam as "Dangerous Dan"—does a good job  illuminating the day-to-day life of an infantryman in Vietnam during the height of the war.
—Marc Leepson
---