Muddy Jungle Rivers by Wendell Affield | Books in Review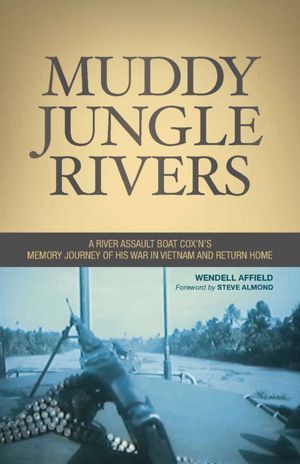 VVA life member Wendell Affield joined the Navy in 1965 when he was seventeen to escape a tumultuous life at home in northern Minnesota. He arrived in Vietnam in February 1968 and served as the cox'n of Armor Troop Carrier 112-11 with the Mobile Riverine Force. "Afe" Affield tells the story of his Vietnam War tour of duty deftly and readably in his memoir, Muddy Jungle Rivers: A River Assault Boar Cox'n's Memory Journey of His War in Vietnam and Return Home (Hawthorn Petal Press, 319 pp., $19.95, paperback).
Affield uses lots of reconstructed dialogue in this memoir, most of which rings true and provides the book with its immediacy. Affield's tour ended in August when he was wounded when his gunboat was ambushed while on patrol on the Hai Muoi Tam Canal in the Mekong Delta, as the seven-man crew was part of Task Force Clearwater.
Here's his evocative description of what happened after he woke up following his first in-country operation. "In the bathroom, I looked in the mirror. Watering eyes stared at a bruised, puffy face with burned-off eyebrows. My gown fell open and I looked down. I was peppered with hundreds of small bits of shrapnel just below the skin. A few larger pieces had been lodged in my left leg and right arm. Those had been removed along with bone chips and damaged tissue.
"The fifth rocket, the one that had penetrated the armor two inches above my right hand, had caused the most damage. The back of my head and neck hurt where several small pieces had entered when the molten steel had richocheted. I was covered with a burning, itchy rash from crawling along the riverbank [waiting for the Medevac chopper], sliding through large patches of brush that burned like nettles. The right side of my face was sore. I tongued my mouth and discovered several broken teeth. Pink fluid drained from my ears and everything had a haze to it. My eyes felt as though somebody had thrown a handful of ashes in them."
Later, he writes, Affiled watched as a medic scrubbed him "with brown solution using a soft brush, working out the bits of shrapnel near the surface. 'You'll be picking bits of iron out for the rest of your life, ' he said."
Affield recovered from his injuries, battled–and overcame–PTSD after returning home, had a career, retired, and today lives with his wife Patti on a farm in northern Minnesota. His website is http://www.wendellaffield.com
—Marc Leepson
---
---
---