Monsoon Blues by Elijah Imlay | Books in Review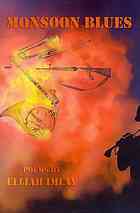 Elijah Imlay's Monsoon Blues (Tebot Bach,  88 pp., $14.25, paper) is a collection of poems drawn from the author's experiences as an Army bandsman stationed at Camp Eagle in Vietnam in 1971. Imlay has arranged the poems chronologically, which results in a cogent poetic narrative of his time in the war zone. He uses a variety of styles in this book of short poems, making it fun to read.
This is a welcome book, as the literature of the Vietnam War relating to bandsmen is limited. The only other worthy published effort that leaps to mind is by Richard E. Baker, who went to Vietnam to play coronet but ended up setting ambushes.
When I tell people that I often stood formation in the early morning in Vietnam in the near darkness on a wet parade ground and had to leap out of the way to keep from being run over by a marching band playing a Souza march, that tale is often pooh-poohed. But the fact is that seventeen Army bands were stationed in Vietnam during the war. Imlay played clarinet with one of them.
In Monsoon Blues , we meet Imlay's friend Bird, the man responsible for organizing a rock band to tour fire bases. We hear a lot from Bird. His is a voice worth hearing, conveying what it was like to be in the jungle with the First Cav.
The book is arranged in four sections; each packs a punch. "Playing with the Band in Nam, " which appears near the end of the book, is my favorite poem.
It beings: "We sit on a hill/watching a firefight/while we eat supper"  One of the bandsmen plays "The Stars and Stripes Forever, " but the soldiers far below cannot hear "the throb of music/that rises out of their horror/into the sky's abyss/from where they fall."
The beautiful, fiery orange cover features band instruments and a bandsman, rather than the usual helicopter and beleaguered grunt that often adorn the covers of books dealing with the Vietnam War. The poems do not let down the hopeful reader. Buy and read this unique book of excellent poems.
—David Willson
---
---
---