Missing in Action by Kevin Diviness | Books in Review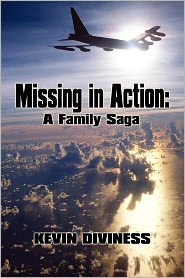 Missing in Action: A Family Saga by Kevin Diviness ( Wandering Sage Publications, 234 pp., $16.95 paper) is a well-written action/adventure novel of the recovery of MIA remains. It carries the weight of extensive research.
Author Kevin Diviness served as a helicopter pilot in the Army National Guard and Reserves, taking part in the war in Iraq, among other duties. In the book he hit no obvious military or Vietnam War clangers that I noticed.
Mike Saunders, the hero of this novel, wrangles his way onto a mission to recover remains of downed B-52 flyers at a crash site in the mountains of North Vietnam. Diviness walks us through the detailed preparations for such an expedition: the politics, the anthropology, and every scientific aspect, and he makes it interesting.

The kicker in the plot is that Saunders' father is one of the flyers who died in the B-52 crash. There is a mild amount of derring-do, but I wish to caution delicate readers that Mike, our hero, is irresistible to beautiful young women, even though he is more of an Ensign Pulver type than a James Bond. This leads to several graphically intimate encounters which slow down the plot a bit.
—David Willson
---