Jackson Street and Other Soldier Stories by John A. Miller | Books in Review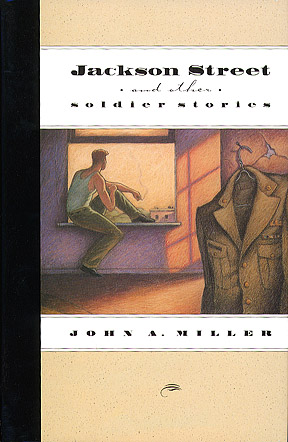 John A. Miller's Jackson Street and Other Soldier Stories , first published in 1996, is now available for the first time as an e-book (Amazon.com, $2.99). There are eleven stories in this 167-page book, and the stories are so good that this reader was left with the question: Couldn't Miller have come up with just one more to make it an even dozen?
Jackson Street' s availability on Kindle will be of interest to readers of his series of mystery thrillers with the hero Claude McCutcheon: Cutdown , Causes of Action , and Tropical Heat . I am sure that many of the readers of this fine series will want to read Miller's first, hard-to-find book.
Jackson Street contains Miller's best writing, in my opinion, and his most direct writing about the Vietnam War. The author served with the 82nd  Airborne in Vietnam. McCutcheon is a Vietnam veteran, so there is that connection between the series and the war. The series is one of the best featuring a Vietnam veteran/quasi-detective hero.
"Guns, " the first story in Jackson Street, had me in tears by the end. Speer Morgan, in a back cover blurb, says that the stories in the book are poignant, "without sending readers groping for the Kleenex box."  Morgan was wrong about this reader. This tale of a Vietnam veteran traveling across the country so he can die from his stomach cancer in the sunshine at Venice Beach gripped me with its huge amount of love, compassion, and humanity.
Henry, the dying protagonist, displays compassion toward a crazy young beach denizen, thinking, "Hell, he's probably a veteran like me."  And this reader thinks, yes, he probably is.
Henry's treatment at the California VA office is brusque at best. He's given a bottle of painkillers and told to head back to North Carolina as fast as he can. To which Henry mutters, "Fuck you."
The reader knows from the outset that Henry will die in California, but when he does, it is a moment of agony. He gets to die in the sunshine, but we get to know Henry so well that his departure brings us the pain of loss.  A good short story can have more impact than an okay novel, and this is one of those rare stories. In the interest of full disclosure, I confess that I am dying of Agent Orange-related cancer myself related to my tour of duty in Vietnam, so perhaps I brought some of that emotion to the story.
The second story, "Vancouver, " has as its protagonist, Lt. Robert Strunk, who has recently returned from Vietnam and separated from the Army.  Strunk falls in with bad company, which includes another Vietnam veteran, one with a more easily observable wound than Strunk's, as he left a leg in Vietnam. 
He is very bitter about that, and has a moving speech about how the VA sends him "a pissant check every month, " but has done nothing for him that might help, such as counseling or training for a job. There is enough plot and bloodshed and interesting people in this story to populate an action movie. 
Every story in this fine book supports the promise in the subtitle that these are soldier stories. Some of the stories surprise the reader with the soldier connection late in the story, but most are honest up front.
All are engrossing and satisfying, whether you are looking for stories about soldiers or just great stories to read. One of them, "Spanky's Dead, " even name checks Claude McCutcheon, the hero of Miller's exciting mystery thriller series.
Probably my favorite story in the book is "Kenny, " the last one in the collection. All I'll say about it is that it is a ghost story, and that the Vietnam War has left us with more ghosts than many of us can tolerate.
There are many mentions of the VA in this book, and none of those is positive. That leads me to say that I read an article this morning that the backlog of VA claims is about to reach one million. Food for thought, triggered by reading Miller's stories.
I can't help but remember a comment I overheard a while back in the Seattle VA Hospital from a sad-sack Vietnam veteran on this subject.  "They are waiting for the Army to die. Think of all the millions they will save."
If you are looking for a superb, but unsettling, book of short stories to read, this book is for you.
—David Willson
---
---
---