Diamond on the Wall by Lawrence T. Vosen | Books in Review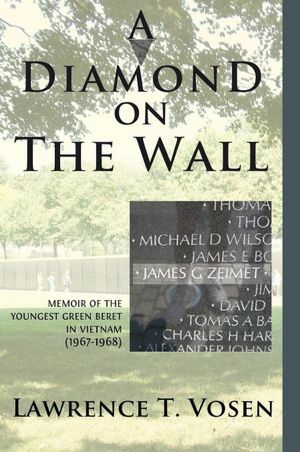 Lawrence T. Vosen's Diamond on the Wall: Memoir of the Youngest Green Beret in Vietnam (1967-1968) (CreateSpace, 152 pp., $9.95, paper) is a handsome, well-designed book, easy and fun to read. Larry Vosen joined the Army at the age of seventeen and was eighteen when he arrived in Vietnam, on July 20 ,  1967. He was assigned to the 5th  Special Forces Group Headquarters in Nha Trang, one of the most beautiful towns in Vietnam, where he worked in the Finance Department.
Vosen provides a wealth of well-written and interesting details about that job and what he did in his off-hours to entertain himself. He played a lot of poker and won a lot of money, which he used to buy consumer goods such as Noritaki china and Seiko watches at the PX and through the PX catalog to send home to his loved ones.
He also managed to be on a finance run to Saigon on the first day of the 1968 Tet Offensive. That section of the book is a thrill to read as the well-armed Volsen was one of the soldiers who helped defend one of Saigon's best hotels from the VC. Someone had to do it.
After a year in Nha Trang, Vosen transferred to a unit at Dak-Pek. The greatest part of his memoir relates to his service there working with a group of Montagnard Strikers in a Special Forces A-Team. The rest of his memoir is built around the recovery of the body of a Dust Off pilot, W1 James G. Zeimet, from Hill 851 where his helicopter crashed. That recovery mission and the complications of it make an engrossing read. The title of the memoir is a reference to the Vietnam War death of W1 Zeimet and the notice of it on The Wall  in Washington.
Unlike the authors of many other Vietnam War memoirs, Vosen chooses to take the reader back home to his family to show how he was embraced on his return. He thanks them for the warm welcome and for the celebration and continued loving acceptance he received. That was moving stuff for this reader.
Vosen also says that "a lot of Vietnam veterans came home to spitting and anger and hatred and shouts of 'baby killer.'"  He does not say he did. And I know I did not. So who is that returning soldier who encountered all of these things?  Somebody, I guess.
Vosen also takes the time in this brief memoir to delineate the damage Agent Orange has done to those who served in Vietnam, as well as though who live there.
I highly recommend this memoir to those readers who appreciate painful honesty and who have a curiosity about all aspects of the life of a Special Forces A-Team member in Vietnam.
—David Willson
---
---
---