Coming Home by John Wilson | Books in Review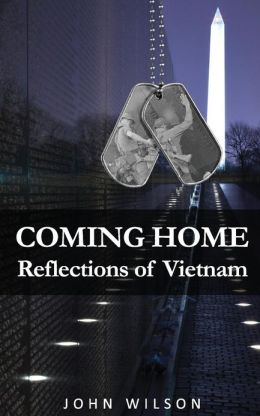 John Wilson served as a Navy journalist in Vietnam supervising radio news for the Seventh Fleet's Saigon Detachment from during his 1968-69. tour of duty. After Vietnam, Wilson worked in law enforcement for thirty-two years. He is the author of 203 Reasons Not to Vote for Barack Obama , and is working on two more books about the Obama Administration.
Coming Home: Reflections of Vietnam  (CreateSpace, 98 pages, $5.77, paper) contains forty-two rhymes and verses (the unkind might say doggerel) that deal with many of the perennial concerns of Vietnam veterans. I keep a detailed list of recurring motifs I have encountered in the hundreds of books by Vietnam veterans I have read. I wondered how long it would take me to get a reflection on "baby killer." I did not have long to wait.
I first encountered it on the back cover. To wit: "Those who survived returned home to the sight of protests, flag burning, chants of 'Hell no, we won't go, ' and unfeeling questions of 'So, how's it feel to be a baby killer?' The author goes on to tell us he was asked this question at his first job interview after he returned. The reader encounters this story again at the end of the book in the four-page epilogue.
Wilson leaves the question unanswered. I would have liked an answer. If I'd been asked that question in a job interview, I would have asked a question or two back. Something like: "How does it feel to send us over there to kill babies?" Or: "What part of the necessity of war to kill don't you get?"
These sincere, heartfelt rhymes decry flag burning (I lost track of mentions at about eleven), the treasonous Jane Fonda, hippies, protesters, and no parades or appreciation from the American public. That oldest of clichés even showed up, the friendly Vietnamese barber who is a VC at night, treacherously slitting throats of those he barbered during the day.
Wilson bravely acknowledges that there were Vietnam veterans who demonstrated against the war, including members of Vietnam Veterans Against the War. But he then says that they committed slander against "our troops." Presumably, he means against themselves, as they are one and the same.
For those who are eager to read a book of rhymes dealing with these and other familiar concerns, I suggest you read this book. If you do, you'll be treated to rhymes such as:
This was Vietnam
And a war that we could win
But instead we chose to lose
By Presidential pen.
I am going to order Wilson's book on Obama.
—David Willson
---
---
---