Bright Light by Stephen Perry | Books in Review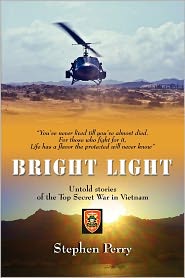 Stephen Perry and three of his buddies enlisted in the Army in November 1965. The plan was that the four California friends would go Special Forces on the buddy plan. They took basic at Fort Ord. But only Perry and Bert Merriman made it to Special Forces training school.
The training entailed combat engineer AIT at Fort Leonard Wood, jump school at Fort Benning and then the payoff: the JFK Center for Special Warfare at Fort Bragg. Merriman went to Vietnam, but Perry underwent more training at Fort Sam Houston, where he became a medical specialist, and at Fort Rucker. Perry then volunteered for the war zone. He landed in Vietnam in December 1967, was shipped up to Da Nang, and then assigned to the shadowy Special Operations Group (SOG) in Phu Bai.
"SOG was not officially part of the Special Forces operations in South East Asia, but Special Forces was used as a cover to shift highly trained insurgents into the top secret operations, " Perry writes in his revealing memoir, Bright Light: Untold Stories of the Top Secret War in Vietnam (Book Locker, 128 pp., $16.95, paper).
In the book, Perry recounts secret ops, including ones into North Vietnam, searching for downed U.S. pilots, and into Laos on intelligence-gathering missions. For more, including ordering info about an updated edition, go to the publisher's website .
The author's website is www.brightlight1968.com
—Marc Leepson
---