Blackhorse Riders by Philip Keith | Books in Review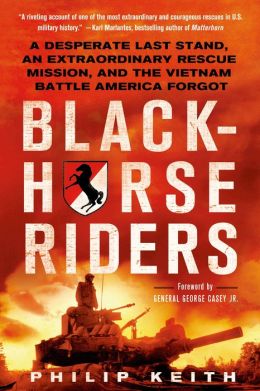 Blackhorse Riders: A Desperate Last Stand, An Extraordinary Rescue Mission, and the Vietnam Battle that America Forgo t by Philip Keith has just been released in paperback (St. Martin's Griffin, 368 pp., $15.99)
Here's our review of the hardcover, from the March-April 2012 print edition of The VVA Veteran :
Blackhorse Riders focuses on one fierce Vietnam War engagement. It took place on March 26, 1970, in triple canopy jungle along the Cambodian border when 1st Squadron's Alpha Company of the 11th Armored Cavalry (The Blackhorse Regiment) got into a never-named, all-day fight against the NVA.
The two-hundred-odd men of Alpha troop came to the rescue of an under-strength and under siege First Cavalry Division unit (C Company, 2nd Battalion, 8th Cavalry) that had inadvertently bumped into a huge hidden NVA stronghold.
Keith, a one-time U.S. Navy aviator in Vietnam, tells the story of Alpha troop's dangerous and successful mission quite well. He also tells how the unit fought for years to be recognized for what took place that March 26, 1970. That effort came to fruition on October 20, 2009, when 119 men of Alpha troop came to Washington, D.C., where they received the Presidential Unit Citation in the White House's Rose Garden.
—Marc Leepson
---
---
---