Assault from the Sky by Dick Camp | Books in Review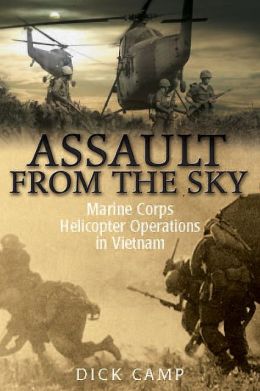 Dick Camp is a retired Marine Corps colonel. He served in Vietnam as a rifle and reconnaissance platoon commander and company commander with the 3rd Battalion, 26th Marines, and as 3rd Marine Division Commanding General Raymond G. Davis's aide de camp during his 1967-68 tour of duty. Like every other American who took part in that war, Camp has vivid memories of flying on the conflict's main mode of transportation: helicopters.
"I, for one, can never forget the stench of PJ-4 (jet fuel), the hot blast of engine exhaust, the drip of hydraulic fluid, the orange-colored nylon seats, and the leap of faith jumping off the ramp of a hovering [CH-46A] into the ten-foot high elephant grass and the medevac helicopter's promise of life, " Camp writes in Assault from the Sky: U.S. Marine Corps Helicopter Operations in Vietnam  (Casemate, 264 pp., $32.95).
"The memory of holding a critically wounded Marine's head in my hands, and praying for the life flight, is still an open wound."
Assault from the Sky is a well-researched, detailed history of Marine helicopters from the time the first ones arrived in Vietnam in 1962 all the way through to the helicopter-heavy evacuation of Saigon in 1975.
Camp, who went on to become deputy director of the U.S. Marine Corps History Division, includes lots of facts and figures, black-and-white in-country photos, maps, and unit insignia images, as well as verbatim Bronze Star, Silver Star, Navy Cross, Distinguished Service Cross, and Medal of Honor medal citations. He also makes good use of personal accounts of helicopter pilots and other Marines in the narrative.
—Marc Leepson
---
---
---