American Boys by Louise Esola | Books in Review
Occasionally an investigative news story is compelling enough to expand into a full-length book in which the author takes on the role of advocacy journalist. American Boys: The True Story Of The Lost 74 of fhe Vietnam War (Pennway Books, 419 pp., $19.95, paper) is such a story. Author Louise Esola is that journalist.
This story of the USS Frank E. Evans —a Navy destroyer cut in two by an Australian aircraft carrier in the South China Sea off the coast of Vietnam in 1969—is a masterpiece of military and personal history. It is brought to light by the author's persistent and poignant pursuit of the facts surrounding the lives of the seventy-four men who died in the accident, as well as their families and survivors.
Four years of exhaustive research has led to a book that guides the reader from the boyhood homes of some of the sailors to the claustrophobic shipboard racks on the tragic last voyage of the Evans. Esola makes good use of letters, family interviews, and official documents.
Lt JG Jon Stever, like many Vietnam War veterans, was dedicated to his role on the destroyer and the mission of fire support from the gun line onto the coast of Vietnam. "Even if it saves just one American life, " Stever wrote home.
Louise Esola was born after the Vietnam War ended. During her research she came to admire the members of the Vietnam War generation, especially those who died on the Evans and are entombed 6, 000 feet deep in the South China Sea.
Three sailors lost on June 3, 1969, were Greg, Gary, and Kelly Jo Sage, who were from Nebraska. Their father Ernest was a World War II veteran who urged his sons to enlist in the Navy. He thought they would be safer than being ground pounders in Vietnam. The Sage family saga is well-presented, adding an intense personal drama to the tragedy.
Esola includes other family stories of those lost or otherwise involved in the sinking. Vietnam War era politics also is covered, including high-level decisions that influenced the course of the war. The book's photographs nicely augment the written images.
Regrettably, the final story of the men of the Evans cannot be finished until their names are added to the Vietnam Veterans Memorial. I urge everyone reading this to go to the author's website to keep current on the status of that ongoing part of the USS Evans saga.
The website is www.louiseesola.com
—Curt Nelson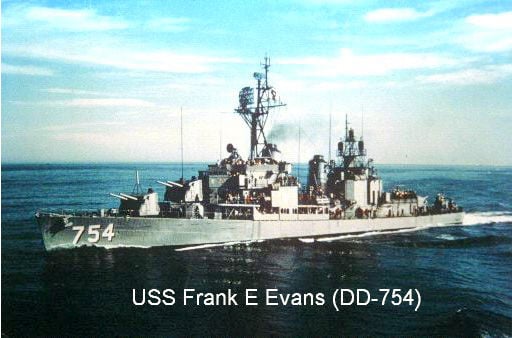 ---
---
---