A Small Hotel by Robert Olen Butler | Books in Review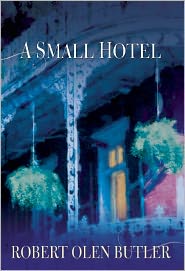 Robert Olen Butler (below ), best known for A Good Scent From a Strange Mountain , his 1993 Pulitzer-Prize winning collection of short stories, has been turning out first-rate fiction for three decades. Butler served in Army intelligence in Vietnam, and used the war as the centerpiece of much of his early fiction. That includes the haunting Good Scent —which tells the first-person stories of fifteen Vietnamese emigrants to southern Louisiana, as well as his first published novel, The Alleys of Eden (1981).
The Vietnam
War and its legacy also were themes in Butler's novel, On Distant Ground (1985), The Deuce (1989), They Whisper (1994), and The Deep Green Sea (1998).
Butler's new book, A Small Hotel ,   has nothing whatsoever to do with the Vietnam War, Vietnamese expatriates, American veterans, or the war's legacy. Butler's subject here is the unraveling marriage of a 40-something couple.  It's often an unhappy, unpleasant tale. But in Robert Olen Butler's capable hands it is an intriguing and often beautifully told one.
—Marc Leepson
---