A Bunker Mentality by William D. Wenger | Books in Review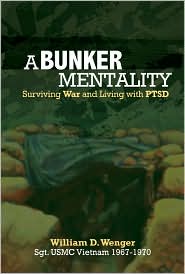 William D. Wenger's A Bunker Mentality: Surviving War and Living With PTSD (Wenger Publishing, 241 pp., $14.95, paper) is a straightforward look at the author's experiences in Vietnam with C Company, 1st Battalion, 9th Marines of the 3rd Marine Division (the "Walking Dead"), and how the brutality of combat he took part in led to a long battle with PTSD.
"While I started writing this book as a memoir of my experiences, " Wenger says in his epilogue, "I now hope that by sharing my experiences, it will send out a message to others out there who are suffering from the effects of war and PTSD: It's okay to get help."
Wenger describes, in this smoothly written, reconstructed-dialogue-filled book, how he entered the Marine Corps after graduating from high school in Lorain, Ohio, in June of 1967. He was in Vietnam by November and had a rough tour of duty, including taking part in the Siege of Khe Sanh.
In April 1970, Wenger received his honorable discharge. The next four decades saw alcohol abuse and three failed marriages. Wenger began to come to terms with his PTSD after the September 11, 2001, attacks and continues to take part in regular counseling sessions.
For more on the book, including ordering info, go to the author's website .
—Marc Leepson
---