One Red Flower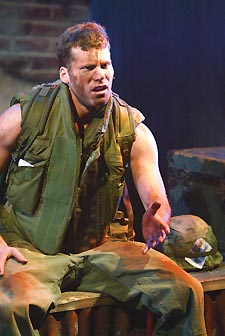 Tonight, Friday, February 20, is the first of ten performances at the Kensington Arts Theatre in Kensington, Maryland, of One Red Flower, new musical play inspired by the book, Dear America: Letters Home From Vietnam , the great oral history put together by Bernie Edelman for the New York Vietnam Veterans Memorial Commission. The book also was the genesis of the 1987 movie of the same name.
This version of One Red Flower, with book, music and lyrices by Emmy-award winning director Paris Barclay, is directed by Craig Pettinati and produced by Jenna Ballard. The play examines the lives of six young soldiers serving together in Vietnam, primarily from 1969-70.
The other performance dates are Feb. 21, 27, 28 and March 5, 6, 7, 8, 13, and 14. For more info go to the Kensington Arts Theatre web site.
---