ESPN on Roy Gleason, Drafted L.A. Dodger

The ESPN web site has a good arti cle on Roy Gleason,  one of the few Major League Baseball players who served in the Vietnam War. The six-four switch-hitter was called up to the Majors in 1963, the year the Dodgers won the World Series. He played in eight games, mostly pinch running. In his one at bat, he belted a double. 
That would be Gleason's first and last Major League hit. He was sent back to the minors, and then drafted into the Army in the spring of 1967. He served for eight months, until he was severely wounded on  July 24, 1968 , when he was hit by a shell that left gaping wounds in his left calf and left wrist.
There's much more to the Gleason story. Check it out at  http://sports.espn.go.com/mlb/news/story?id=1619688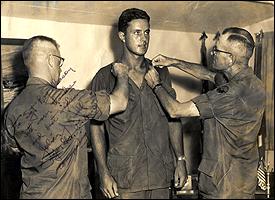 In 1968, Gleason was promoted to sergeant in the war zone
---