Vann Nath, 1946-2011
Vann Nath, one of Cambodia's most promient artists, died of cardiac arrest on September 5. He was 65 years old and was one of a handful of survivors (only two of whom are alive today) of the notorious Khmer Rouge secret prison and torture center known as Tuol Sleng (or S-21), where some 14, 000 men, women, and children were interrogated, tortured and executed during the 1975-79 Killing Fields that followed the end of the American War in Vietnam.
Vann Nath's artistic skill and renown, in fact, saved him from being executed. The Khmer Rouge jailors spared him and put him to work painting and sculpting portraits of their leader, the notorious Pol Pot. Vann Nath escaped from S-21 in 1979 when the Vietnamese invaded Cambodia and liberated many of the Killing Field prisons.
The prison later became a genocide museum whereVann Nath worked for several years.  His paintings depicting the brutality he saw in S-21 hang in the museum today. Among his other artistic endeavors, Vann Nath worked with Cambodian filmmaker Rithy Panh on the documentary, "The Khmer Rouge Killing Machine, " and wrote a memoir, A Cambodian Prison Portrait: One Year in the Khmer Rouge's S-21 Prison in 1998.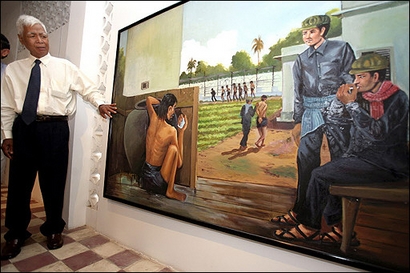 ---