Leo Cullum, 1942-2010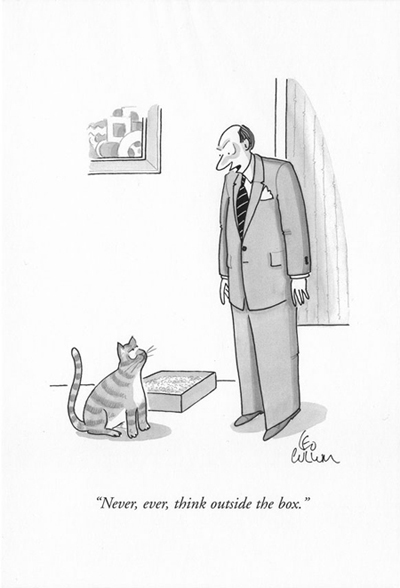 Leo Cullum, 68, one of the nation's most prolific and celebrated cartoonists, died of cancer October 23 in Los Angeles. Cullum, who had more than 800 of his light-hearted cartoons—many featuring dogs and cats, businessmen and doctors—in The New Yorker , flew 200 missions as a Marine Corps aviator in Vietnam in 1966-67.
Culum grew up in North Bergen, New Jersey. He graduated from the College of the Holy Cross in Massachusetts in 1963 with a degree in English. He had joined the college's Air Force ROTC program, then had switched to the Marines' Platoon Leaders Class so that he could finish his military training during the summer.
As soon as he graduated Cullum was commissioned a Marine Corps second lieutenant. In August 1963 he underwent flight training in Pensacola, Fla. Cullum then took advanced jet training on the F-4B Phantom and shipped out to Vietnam in April of 1966
Based first in Danang and later in Chu Lai, Cullum went on to  fly 200 missions, including some secret bombing runs over the Ho Chi Minh Trail in Laos. "Who these were secret from I'm still not sure, " Cullum told Holy Cross Magazine. "The North Vietnamese certainly knew it wasn't the Swiss bombing them."
After his Marine Corps discharge in 1968, Cullum went right to work for TWA as a pilot. He put in 34 years flying for T.W.A. and American Airlines until his retirement at age 60 in 2002.
Leo Cullum started drawing cartoons during layovers. His first one was published in Air Line Pilot Magazine in the mid seventies. Then he began selling his work to other publications, including True, Argosy , The Saturday Evening Post , and Sports Afield . Cullum's  first New Yorker cartoon appeared in 1977.
He continued published cartoons in that august publication for more than 35 years. "Leo's cartoons were a perfect marriage of drawing and caption, " the acclaimed New Yorker cartoonist Roz Chast noted in her appreciation of Cullum .  "His gags were truly out there: unexpected and completely loopy.
"In one of his cartoons, a group of cavemen sit on rocks around a campfire, which is, as we know from cartoons, what cavemen do. Another caveman points toward an empty rock and asks the group, 'Is anyone using this rock?'"
The New York Times, among other newspapers, published an admiring obituary of Leo Cullum on October 26.
---